Here's the trick to send MP3s via WhatsApp in Windows Phone.. (for Windows Phone 8.1 Users)
★ 1 ★ INSTALL AERIZE EXPLORER
First of all you need to have "Aerize Explorer" - Download and install "Aerize Explorer" If you don't have it.
★ 2 ★ CREATE WHATSAPP AUDIO FOLDER
Create a WhatsApp Audio folder under Pictures. Next, Find your music under Music folder copy it and paste it into the WhatsApp Audio Folder that you just now created.
Open "Pictures"
Tap "+"
Create and Rename the folder to "WhatsApp Audio"
Copy *.mp3 file to this particular folder from Parent location of file.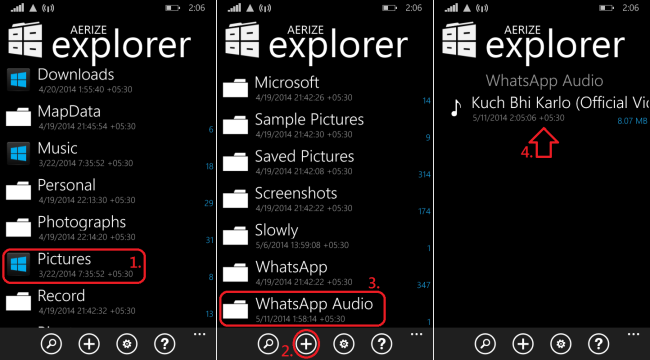 ★ 3 ★ CHANGE MP3 TO MP4 EXTENTION
Simply rename the file extension from *.mp3 to *.mp4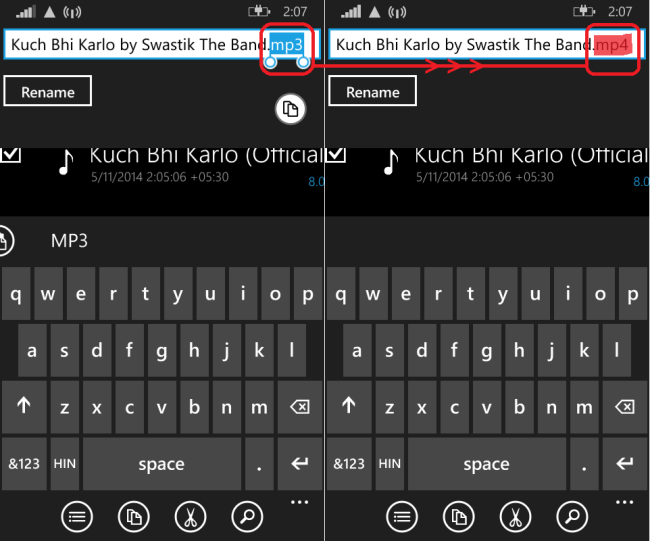 ★ 4 ★ SEND THE FILE
Go to the WhatsApp conversation and:
Click on the Attachment paperclip
Select Album
Find the file in the WhatsApp Audio folder
Attach and send
There you Go.! The files will be received as MP3's even after being renamed as MP4s.